What are Marked Cards?
If someone said your cards are marked, it means your poker cards are processed in a method only apparent to marker or conspirator, like bending or adding invisible marks to a card.
Traditional Marked Cards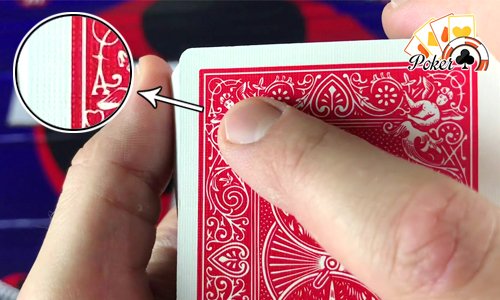 From the very beginning, ways of marking cards were very rude and immature. With a very low cost, these cards were used in countless poker games and magic shows. Just a quick glance, you could know the cards' suit and number by seeing its back mini but visible marks.
Advanced Marked Cards
To meet the demand in the market, the ways to mark cards have become much advanced and mature. After thousands of attempts, here are some common and practical marked cards available in the market. They can be designed for different reading system:
Marked Poker Cards for Sale
Of course, all types of marked poker cards are available in Cheatingcard.com online shop with fair price but superior quality. They are widely used in various poker games: Texas Holdem, Omaha, Blakcjack, and other games. We would choose the most suitable and the best marked cards on the basis of your requirements.
Invisible Ink Marked Cards for Contact Lenses
Barcode Marked Cards for Poker Scanner System
More Details as Following
How do Marked Cards Work?
What are marked cards for contact lenses?
Marked cards for contact lenses are a type of cheating playing cards that printed with invisible ink markings. The markings are the numbers and symbols to indicate the suit and value of the poker cards. And the most important feature is read by the luminous contact lenses.
Compare with the traditional marked poker cards, such as cards marking, by adding or bending visible marks to a card, invisible ink marked cards are printed with unreadable marks on the back of the cards, do not altering anything of the cards' back pattern; the most important thing is that naked eyes are not able to see the invisible ink markings, so this type of cheating playing cards are the most advanced and best marked cards. And for the marked cards contact lenses, they look like the normal contact lenses, and will not hurt or change the color of the user's eyes.
There is another type of marked cards that can be read by contact lenses. Its invisible markings are printed on the 4 edges of the deck. The marks look like a QR code, you are not able to see the cards' suit and value directly from them, even the contact lenses.
How to work poker analyzer with poker?
The poker that works with poker analyzer is called barcode marking poker. It's a type of invisible ink marked playing cards; the markings are barcode shape, so only the poker analyzer is available to read it and analyze it, and get the game result at last. In other words, what makes the whole thing work is the use of this special QR code marked cards.
The working process like this: the scanning camera (inside the poker analyzer) reads the barcode markings at first, then sending the image to the signal receiver of the analyzer and no more than 1 second. At last, the user will be informed who are the winners at any cards game (casino game, such as Texas Holdem, Omaha, blackjack, etc).
Although contact lenses marked cards and barcode poker are both printed with invisible ink, but their marking types are different. The marking of contact lenses marked deck is number, while the marking of barcode poker is QR code. They use different marked cards reader.
How to read marked playing cards with poker camera?
Infrared camera is one kind of the poker cheating cameras. It works base on the monitoring principle and much different to the poker scanning camera that works to read the side marks. Infrared poker camera works to read the back marked deck of cards with special infrared ink marks.
This trick with infrared poker camera is much safer than other cheating devices and also it needs special requirements for using such an amazing device. Since this mini spy camera lens needs to be installed somewhere above the poker table so as to see the cards through a screen, you need to have a poker room where you install the spy camera easily and safely.
What's more, you need to work with a partner for using the infrared camera to cheat in the games, so that when you are on the game, your partner can see the marked cards of other players clearly with the screen such as a phone or a TV and then tell you secretly the useful information.
All the information about marked cards poker cheat devices you already have, then how can we use them to play a trick in different games?
How to Cheat at Poker?
How do I get better at Texas Holdem?
Texas Holdem is one of the greatest games all over the world. The combination of skill and luck, the psychological element, and the fact you can make money from it all help with its popularity. But not everyone can win from the games. How can we get better at Texas Holdem?
There are many articles online talking about the strategy but they don't work at all. The marking cards technology and other cheating devices make it much easier to win at the Texas rather than depends on the good luck and the so-called strategy. With the infrared ink reader to see back marked cards, the users can know other players' two cards clearly in the Texas Holdem. This is the most important part before you make a wise decision in every round so as to make you win most from the game. Also the barcode marked cards and poker scanner analyzer to report you the best hand is another fast and effective way for you to enjoy the game.
What is the best hand in Omaha?
Omaha poker is a popular gambling game which is similar with Texas Hold'em. In Omaha, each player is dealt four cards and must make his or her best hand using exactly two of them, plus exactly three of the five community cards. During gambling, players have four chances to make a bet. If players can predict who is the best hand in Omaha in advance, they can know how they bet is the most beneficial.
Marked cards can achieve this effect. When these cards work with poker analyzer, players can previously know the best winner and the second winner. When playing Omaha, players just need to put the local camera of analyzer aiming at the barcode on marked decks. Barcode marked cards are printed by invisible ink so our naked eyes can't see anything different. There are bar codes on four edges of playing cards. No matter which seat player sit, his/ her analyzer can scan the cards.
Even you are not the best hand in gambling, our marked poker cards can help players decrease the chance of losing money. Because you always know the rank of each player or number of every marked cards.
How do you win every time in Baccarat?
Baccarat poker is similar with scoring game. Each player will hold 2-3 cards and the winner is the player whose total score reaches 9 or is near 9. Players need to make the bet before dealer deals cards. Unlike most poker gambling games, Baccarat can make the bet on the bookmaker or player. But you can't know the cards in advance, you just can guess who will be a winner. Sometimes, you will win. But most of time, you can't make the right bet.
If you use some cheating devices, you will find that it is so easy to win in Baccarat. Marked playing cards are cheating devices that can help you win easily without any practice. They will let you know the order of poker cards in a dealing shoe. With our marked cards, you can forecast the winner in Baccarat, so your bet will be never dead.
What's more, marked poker decks are very conceivable and safe because they are processed from original cards. They won't be discovered by other players. With them, you will be the poker winner in Baccarat every time.
Regardless what types of marked cards you are interested, you always can find available poker devices in our web to help you play a trick at games or magic show. If you want to get more details about cheating playing cards, don't be hesitate to contact us!
---